These are some of the best frugal breakfast ideas to save money on your breakfast costs. Especially with inflation skyrocketing lately, many of us are looking for tips and tricks to cut the food budget.
Not to worry though – we've got 13 delicious and filling frugal breakfast ideas that are perfect when you're pinching pennies.
Best Frugal Breakfast Ideas on Budget
Here are some best frugal breakfast recipes ideas for people on low budget:
1. Oatmeal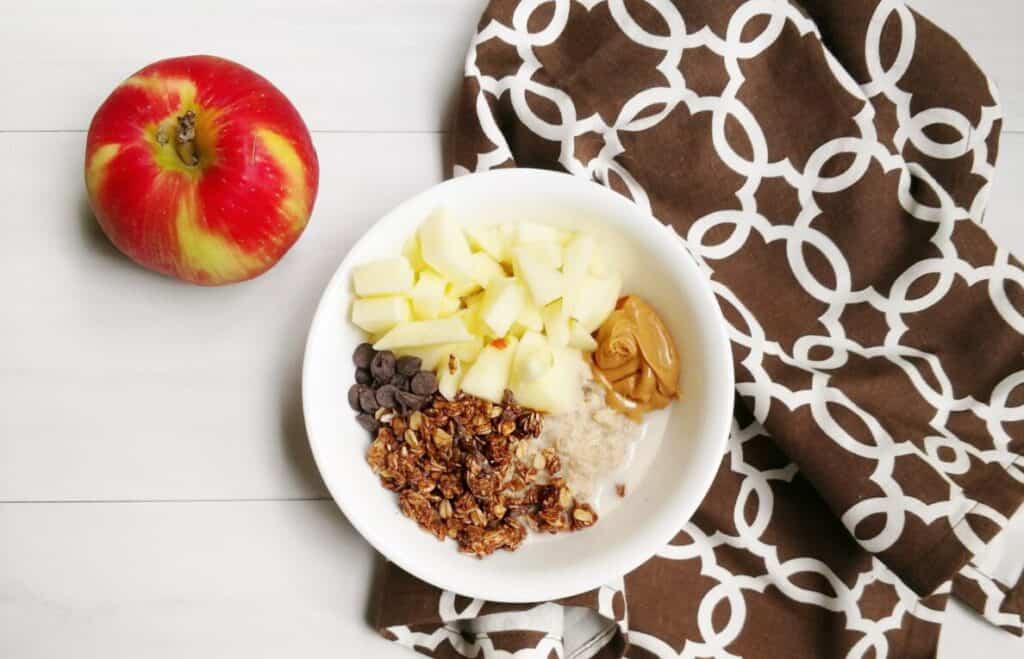 Oatmeal is always a great frugal breakfast option. You can make a big batch of steel cut oats in the crockpot and portion it out for the week, or you can make old fashioned oats each morning in just five minutes.
The key to oatmeal is mixing in some delicious flavor boosters. Here are a few of my favorite options:
Diced apple, peanut butter, and a few chocolate chips (this is SO good. I eat it at least twice a week!)
Scoop of Greek yogurt, drizzle of honey, and frozen defrosted berries (or fresh berries if you grabbed 'em on sale)
Brown sugar and raisins
Sliced banana, cinnamon, and nuts
You can also try overnight oats recipes, which are designed to be eaten cold (though you can also reheat them if desired).
My go-to overnight oatmeal recipe is as follows:
1/2 cup rolled oats
1/2 cup milk
1/4 cup greek yogurt
1 tbsp chia seeds
1-2 tbsp peanut butter
1 tbsp chocolate chips
Mix those and refrigerate in a jar overnight. In the morning, add a sweetener of your choice to taste, then dig in.
Any way you make it, oatmeal is inexpensive and delicious!
2. Egg Scramble and Toast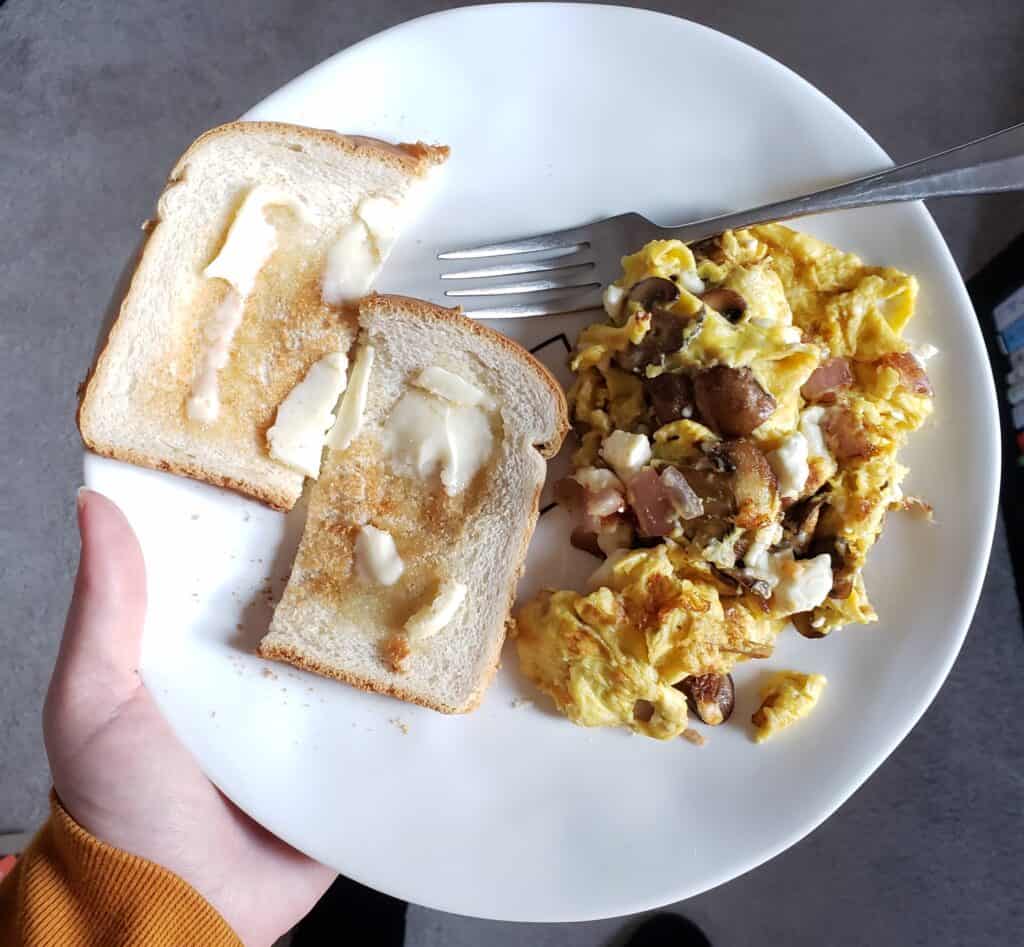 This frugal breakfast is a classic for a reason – it's affordable, filling, and can be tailored to your liking (or what's left in your fridge) with all sorts of mix-ins.
Start by sautéing any extra veggies you've got on hand. These could be leftovers from dinner the night before, or maybe extra items you scored on sale but didn't know how to use.
I personally love to save small amounts of the veggies I'm chopping for dinner, either in a mason jar in the fridge (if I'll use 'em that week) or in a bag in the freezer. Then when it's time to add veggies to breakfast, I can just toss those in!
Some of my fav cheap veggies to add include:
Onion
Bell peppers
Leafy greens (spinach, kale, dandelion greens, etc)
Mushrooms
Scramble some eggs into that, add a slice of toast on the side, and you've got a nutritious balanced breakfast.
3. Banana Oat Pancakes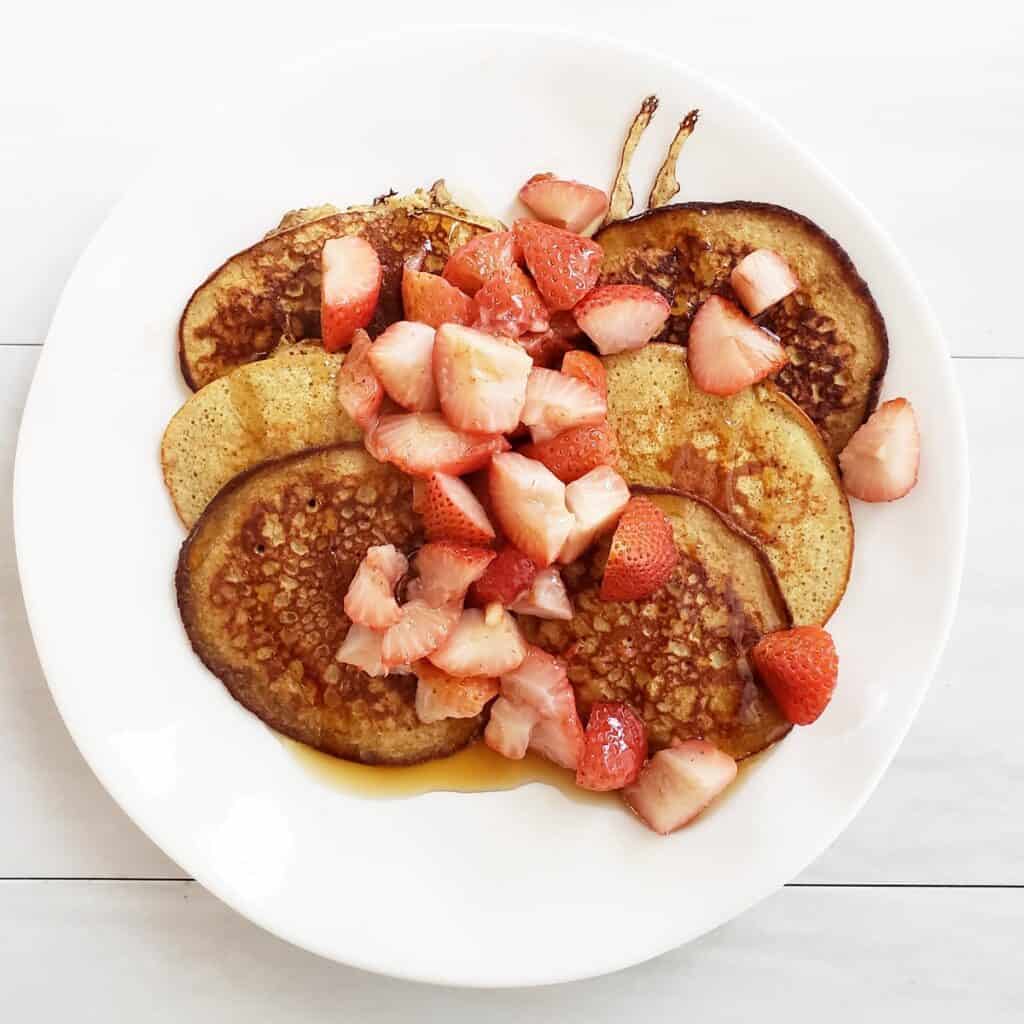 Pancakes are frugal by nature, made mainly of baking staples that are already in your pantry. But for a healthier spin, try these frugal banana oat pancakes. This is a perfect way to use up some browning bananas on your counter!
Here's what you'll need
1 browning banana
1 egg
1/4 cup milk
3/4 cup rolled oats
1 teaspoons baking powder
1/4 teaspoon ground cinnamon
Pinch of salt
Pop all those ingredients in a blender and mix until smooth. Cook in a greased skillet! This will make 2 small servings of 2-3 small pancakes each.
I like to serve these topped with fruit and maple syrup.
4. Smoothies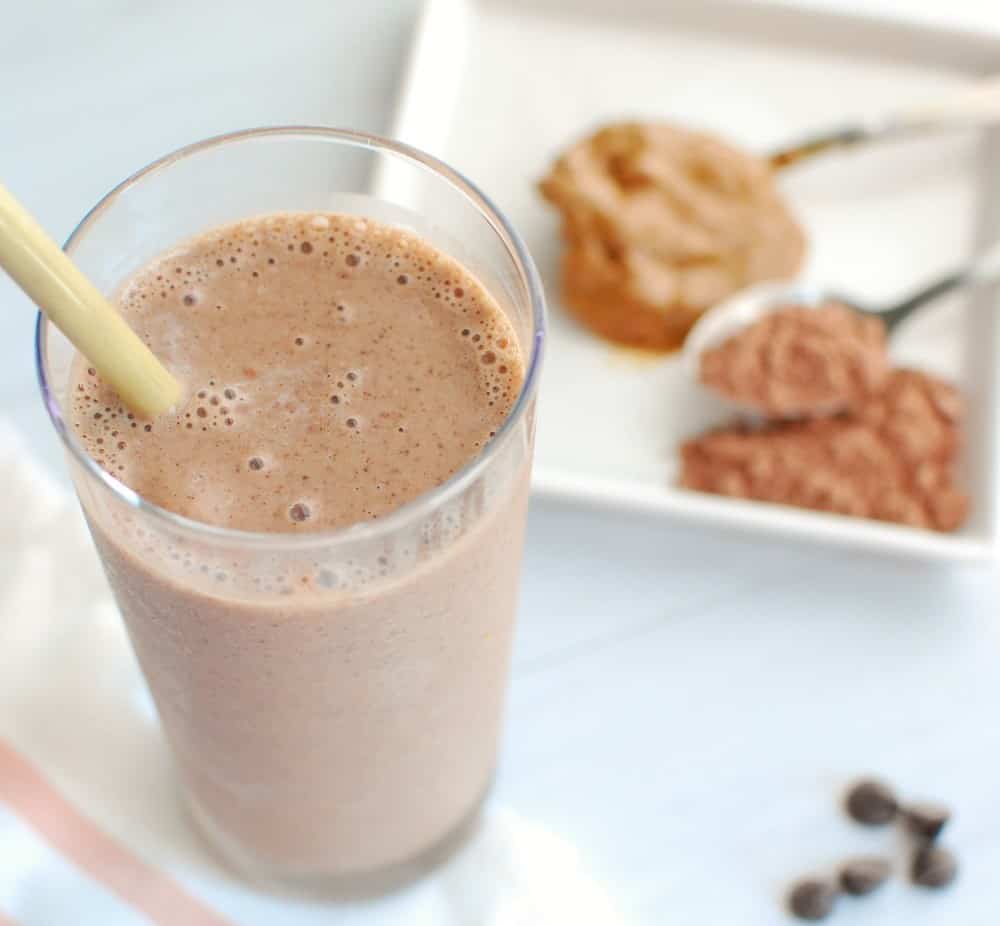 Smoothies are frugal, fast, and easy – the perfect breakfast for busy mornings. And there are endless flavor possibilities!
They're also a great way to use up produce that's about to go bad. Instead of tossing the produce, pop it in the freezer and throw it into your next smoothie. This can include bananas of course, but you can also freeze extra greens, avocado, berries, mango, or pretty much any fruit or veggie approaching the end of its lifespan that you'd like to blend into your drink.
You can also freeze yogurt if you have extra that you won't use in time before it goes bad. Freeze it in an ice cube tray, then transfer into a large zip top bag. Whenever you want to make a smoothie, pop a cube in to add protein and creaminess.
When creating your smoothie, you can think of including something from each of the following categories – get creative based on what you've already go on hand!
Fruit – Banana, berries, mango, pineapple, peaches
Veggies – Spinach, kale, frozen cauliflower, beets, carrots
Liquid – Milk (of any kind), juice, coconut water, coffee, water
Protein – Greek yogurt, almond butter, peanut butter, silken tofu
Health or flavor boosters (if you already happen to have any on hand – don't but these specifically for smoothies) – Avocados, chia seeds, flaxseed, cocoa powder, lemon, cinnamon, turmeric
5. Breakfast Hash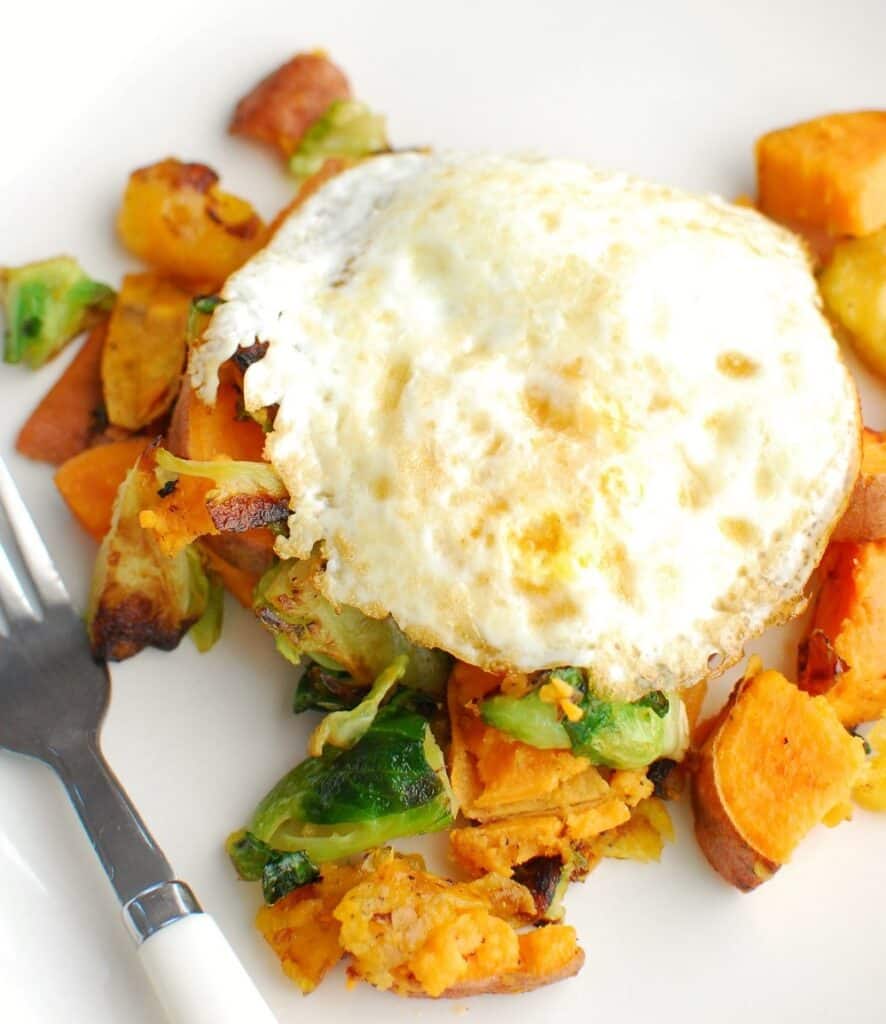 This frugal breakfast idea is perfect when you're craving a savory morning meal. Essentially, you'll pan fry veggies, a starch, and a protein together, season it up to taste, and dig in.
Here are a few hash examples:
Bell peppers, onions, potatoes, and ground turkey
Brussels sprouts, sweet potatoes, plantain, and eggs
Kale, sweet potato, and sausage
Bacon, apple, plantain, and potatoes (bacon is pricey, but using just 1-2 slices can add a ton of flavor to a meal)
This doubles as a great lunch or dinner idea too.
6. Peanut Butter and Banana Sandwich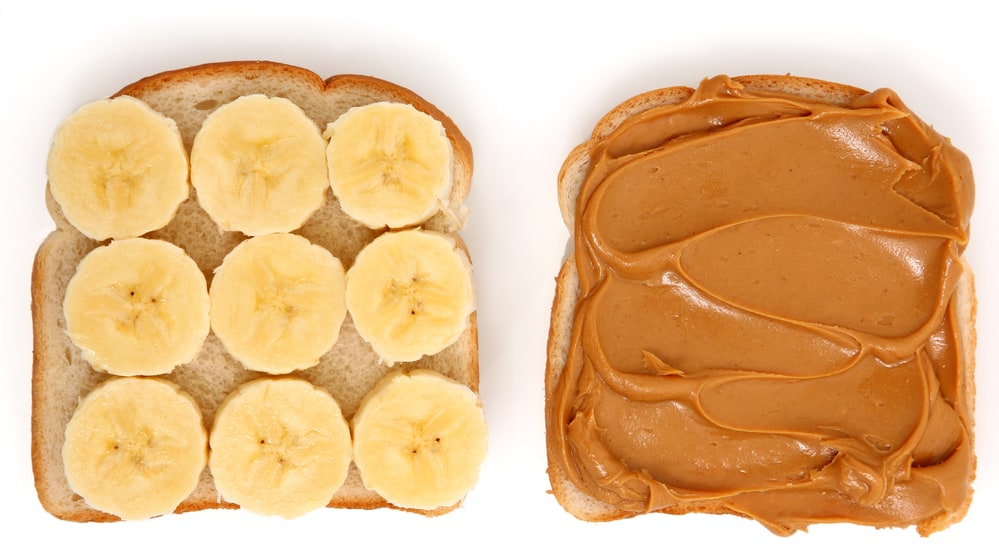 A peanut butter sandwich is a childhood classic for a reason – it's dang delicious. And it couldn't be easier to make!
Instead of going with the traditional jelly, I like slicing a banana on my sandwich. Bananas are super inexpensive (one of my very favorite cheap foods), and offer a bit of extra nutrition compared to jelly.
If you need to balance out the meal or add more calories, serve it alongside a glass of milk, or double up on the sandwich goodness.
7. Breakfast Taco
I am personally a huge fan of breakfast tacos. They can be as simple or complicated as you'd like, and they're easily customizable to your taste.
Start with two corn tortillas (one of the cheapest foods out there!). For a simple frugal version, add some refried beans, eggs, and salsa. I recommend you first warm the corn tortilla a little bit; I hold mine over the flame of a gas stove to get just a little char on each side which tastes so good (be careful!).
You can get creative with other ingredients too, if you've got 'em on hand and they fit in your budget. For example, you can add diced potatoes or sweet potatoes, more beans, bacon, or chorizo.
You can also mix this up by making breakfast burritos; just use a larger flour tortilla.
8. Yogurt Parfait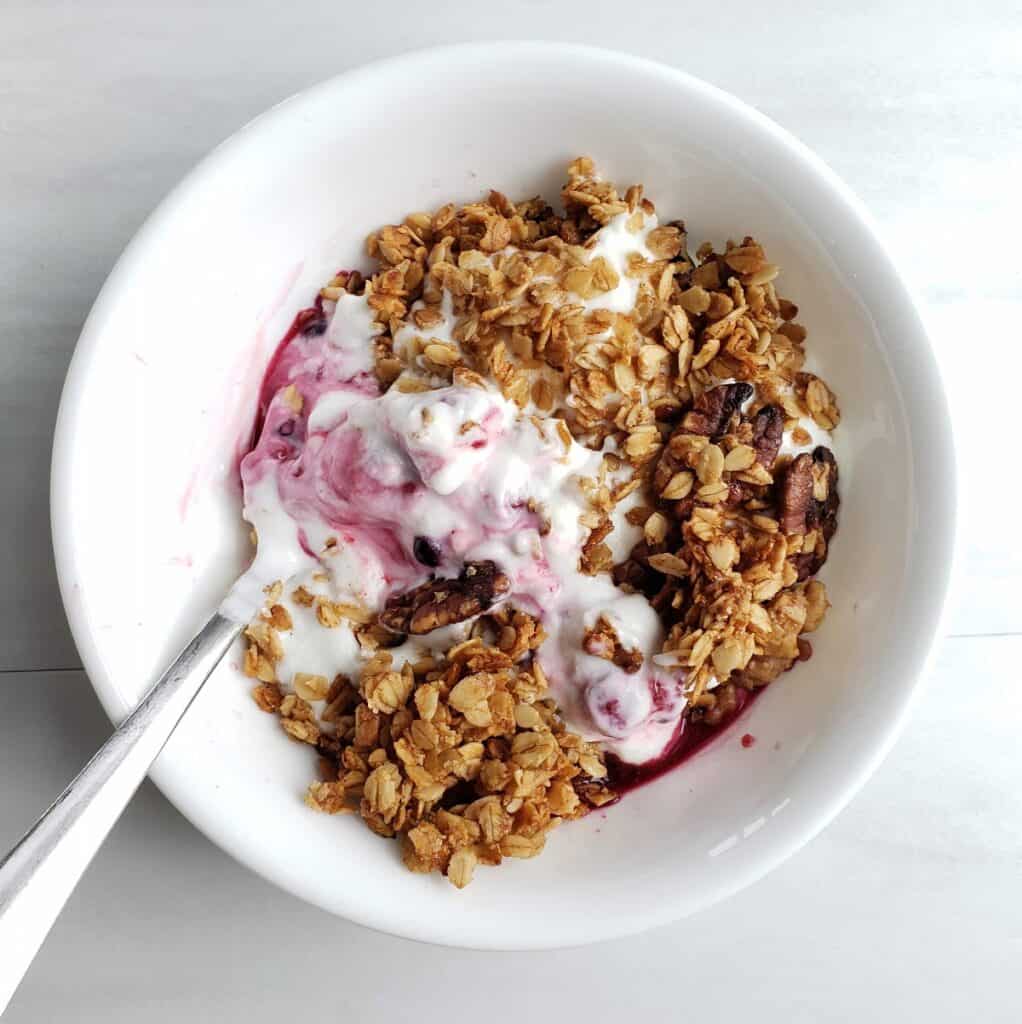 For a frugal parfait, start with Greek yogurt (it's packed with protein to help keep you full). I recommend buying the big tub of plain greek yogurt, as it's cheaper than the single serve cups – and you can sweeten it to your individual preferences.
Then add some fruit. Frozen is a great option for parfaits. When you defrost frozen berries, for example, they release some of their juices, and this can be swirled into the yogurt to help sweeten it.
You can also add granola. If you don't have any granola on hand, you can make your own (which is usually quite cost efficient) – or you can use some cereal or nuts for a little crunch.
If you want something a bit more indulgent (dessert for breakfast anyone?), try topping your yogurt with honey and chocolate chips.
9. Egg Casserole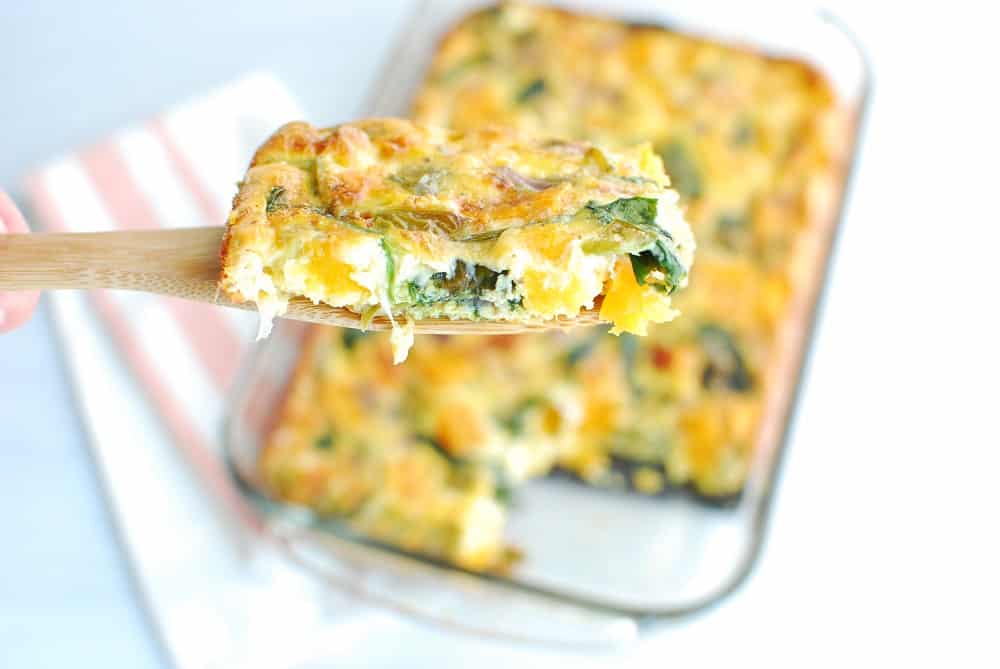 This frugal breakfast idea is great for meal prep – make it on Sunday, and then have breakfast ready for the rest of the week!
There are countless recipes for egg casseroles out there, but they all essentially follow the same format.
Mix a bunch of eggs with a few splashes of milk, and season with salt and pepper. Toss in sautéed veggies, along with either cheddar cheese and/or cooked meat (like sausage or ground turkey). Pour that into a casserole dish and bake until it's done!
You can store leftovers in the fridge and then pull from it throughout the week. Just pop a square of the casserole in the microwave and you've got a quick breakfast.
If you're not a cook-by-the-seat-of-your-pants kinda person, here's a great recipe for a vegetarian breakfast casserole.
10. Homemade Muffins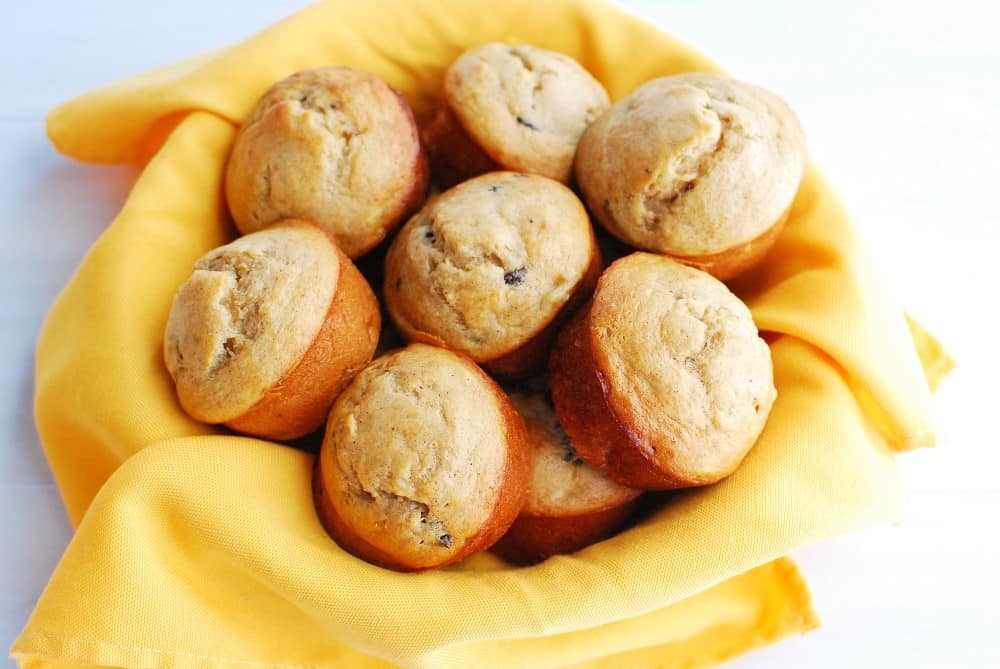 This is another great option to prep on the weekend, and pull from throughout the week. Quick muffin recipes include options like:
Banana muffins (great for using up those browning bananas)
Pumpkin muffins
Zucchini muffins
Morning glory muffins
Cranberry muffins
Apple cinnamon muffins
Blueberry muffins
You can make any of these options at home depending on what you've got on hand. Whole wheat flour is great for adding a bit more fiber, helping give the muffin more "sticking power" throughout the morning.
Pair this with some nut butter on top to add healthy fats and protein. Peanut butter is usually the most cost effective option.
Or, pair your homemade muffin with a glass of skim milk to add protein to your morning meal.
11. Breakfast Fried Rice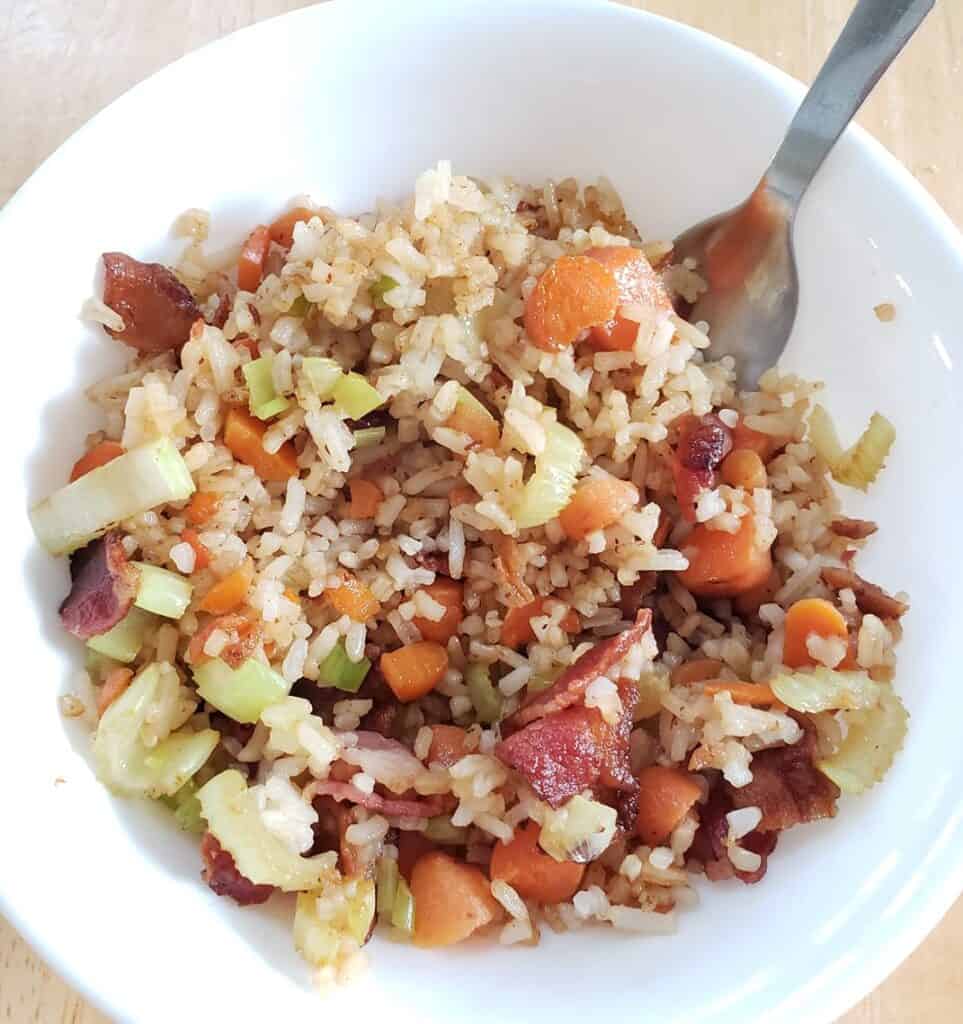 Got leftover rice from last night's dinner? Perfect for breakfast fried rice!
Start by sautéing some veggies (whatever you've got on hand – onion, peppers, mushrooms, etc.), then add in your cooked rice. Season with soy sauce, salt and pepper to taste.
You can add whatever protein you'd like – whether that's a scrambled egg or two, some chopped bacon, or extra ham that's leftover from dinner.
If you want a bit more of a crunch and have it in your budget, sprinkle on some chopped peanuts or cashews right before serving.
12. Sweet Potato Breakfast Bowl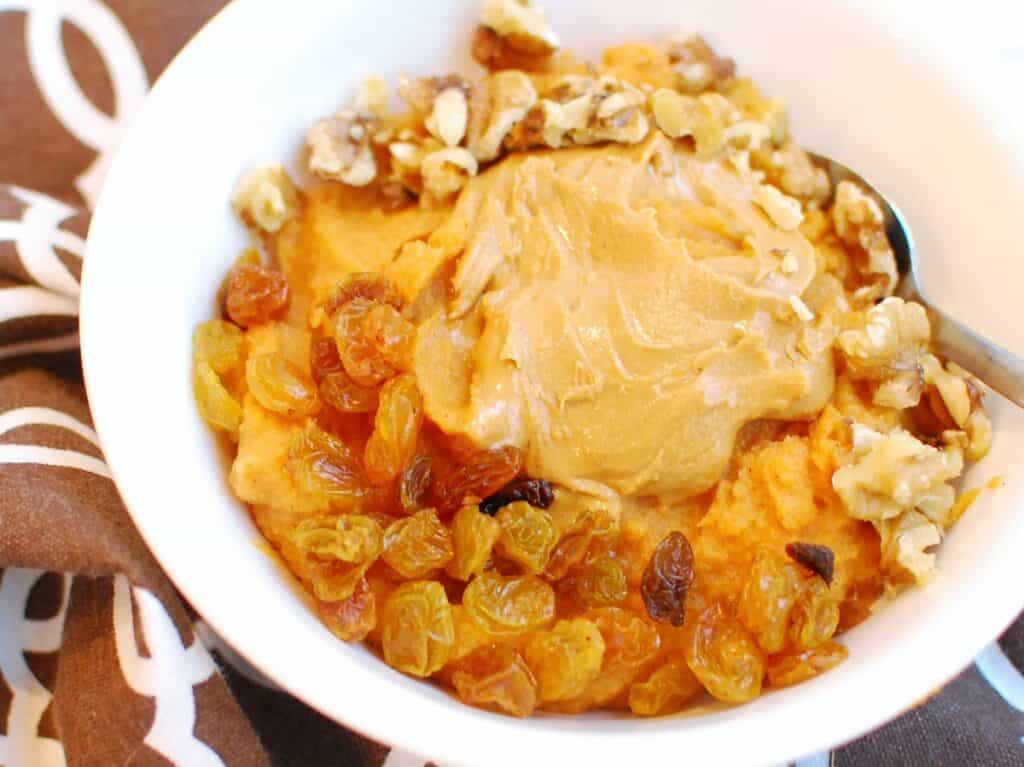 Sweet potatoes for breakfast? Yes, please!
This is a great way to satisfy the sweet tooth in a nutritious way. Plus, sweet potatoes are so cheap that it makes for a super frugal option.
Start by cooking your sweet potato – you can bake it in the oven if you have time. But if you're short on time, just cook it in the microwave (poke a few holes with a fork, then microwave around six minutes).
When it's cooked, you can top with things like:
Nut butter
Fresh fruit
Dried fruit
Shredded coconut
Granola or cereal
Chopped nuts or seeds
The possibilities are endless – get creative and see what you can come up with!
Conclusion
Breakfast doesn't have to be complicated or expensive to be delicious! By getting creative with basic ingredients, you can whip up something amazing without breaking the bank.
Do you have a favorite frugal breakfast idea? Share it in the comments below!