10 best ways to save money at TJ Maxx for starters. There is a difference between discount stores and off-price retailers. At discount stores, you will find private label merchandise. Off-price retailers, on the other hand, sell designer and brand-name merchandise. tJ-Maxx is an off-price retailer. But this does not mean you cannot save money when shopping at tJ-Maxx. In fact, there are quite a number of ways to save money at J-Maxx.
Here is how to go about it like a pro:
How to Save Money at TJ Maxx
1. Shop on Wednesday mornings
This is one of the best ways to save money when shopping at J-Maxx according to the Krazy Coupon Lady. Why? They receive their products on a daily basis. However, price markdowns and new stocks come out between Tuesdays and Fridays- almost.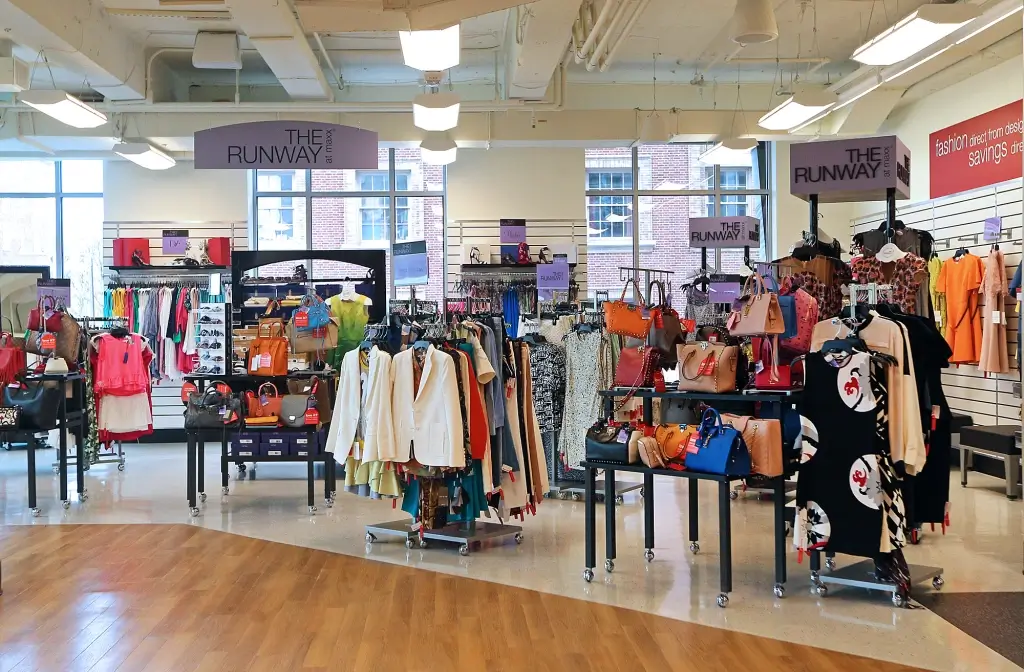 The markdowns will happen after the store has closed or very early in the morning the following day before opening hours. Remember the early bird catches the worm. Well, in this case. Be the early bird and catch those marked down items before anyone else.
2. Big discounts happen in January and July
When it is time to stock out items to cater for the next incoming season, J-Maxx will offer bigger discounts to clear the racks of the old inventory. This is when you seize the moment and enjoy the big discounts like never before.
3. Check the clearance section first
We cannot lower the possibility of finding similar items all over different sections of the floor with different price tags. If saving money while shopping at J-Maxx is your priority, check the clearance section first to see if the item you want is there.
In case you find an item marked down but is in another section with a different price, you can ask their personnel. They will mark down the price of the other item. But they will only do so if the style numbers of the items are similar.
4. Check the items for imperfections
An items imperfection is your chance of getting a discount. That is if you do not mind taking it in that condition. Check if there is a broken zipper or maybe a crack in a piece of furniture. Which it is, as long as they have not tagged it with an "as-is" tag then ask for a discount. There is a very high probability you will get that discount.
5. Compare prices with the Amazon
Just because J-Maxx is an off-price retailer does not mean their prices might be higher than what you see from online shops. When shopping at J-Maxx, have the Amazon App ready for price comparison. Some deals might be too good to be true and Amazon will help you see if J-Maxx is giving you a raw deal.
6. Shop in-store
If I told you shopping from the physical stores of J-Maxx rather than their online store is more advantageous would you believe me? It is true. The stocks on their online store is usually different from what they have physically. You might not find brand names on the online store but visit their store and you will have a choice from various brand names. Additionally, shopping in-store will save you shipping charges.
7. Buys discounted gift cards and save up to 10%
Gift Card Granny has TJ Maxx gift cards and you can save up to 10%. You can also use J-Maxx's gift card at Homegoods and Marshalls and vice versa. The three companies belong to the same parent company and often accept gift cards from either of the stores.
8. Make it your one-stop shop for your furry friend
In fact, they have lower prices for pet supplies compared to pet stores like Petco and PetSmart. If you are looking for a perfect pet bed, the J-Maxx will help you save money and for a quality one.
9. Avoid their credit card
Unless you are making a large purchase then it is not worth it. Once you have done your huge purchase and gotten those reward, toss it away.
10. Decode the T.J.Maxx tag colors and plan accordingly.
T.J.Maxx has many colored tags around the store, but they aren't just for decoration. In fact, understanding the system can help you decide whether to buy and when to wait for a better deal.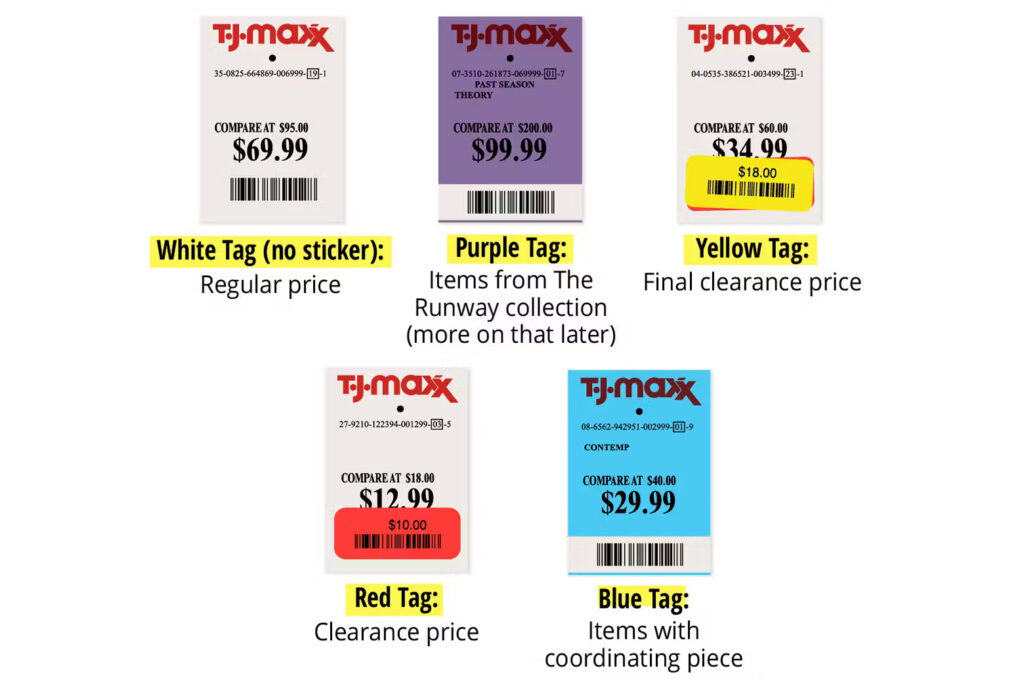 What is the color of the tag?
Yes, the color of the price tags matter. A lot! It determines the markdown you are getting. When shopping at J-Maxx, first look items with a yellow price tag on them. The yellow price tag means that the item has received the final markdown it can ever receive. Most yellow price tags are found in January and July. If it is an item you want do not even think of putting it down.
What do the other colors stand for? Glad you asked!
White tag– or no sticker at all. This one has the regular price.
Red tag- this represents clearance price.
Purple tag- for all Runway Collection items. Yes, J-Maxx sells runway collection items at a lower price than you would get at the brand-name stores.
Blue tag- this is for any item with a coordinating piece.
What's the secret behind their price tags?
While we are still on price tags, knowing what each color of the tag represents is not enough. It is also important to know their secret behind their price tags. For instance, when you pick an item of any rack and look at the price tag, there will be a squared number at the top right corner of the tag. That number represents the month in which the item was brought into the store. Their cycle runs in 2 years i.e. 1 — 24 months. So, if the squared number is 21, it means the item was received in month 21.
And that is not all. At the bottom of the clearance price sticker that is attached to the price tag, there is a series of numbers. The last 2 digits will tell you the week in which the item got a markdown. In case you get two similar items with different weeks of markdown, then ask one of the customer service people if the item missed a markdown. They will scan the item and if it has a markdown, a new tag will print with a lower price. Be polite about it though.