Over the years, you've probably accumulated books you no longer want. However, rather than throwing them out, you should donate them to others in need.
There are many resources through which you can give away your extra books. With so many opportunities and resources, there's really no reason for you to toss them out.
About 39.7 million people live in poverty, and that's just in America. So, imagine the entire world. People in less advantageous situations might not have money to spend on books for themselves or their children.
And donating books has more power than you think. Reading is a great way to educate and entertain yourself productively – no matter how old you are. Therefore, providing books for disadvantaged people is an excellent way to brighten up their life.
Where to Donate Books Near Me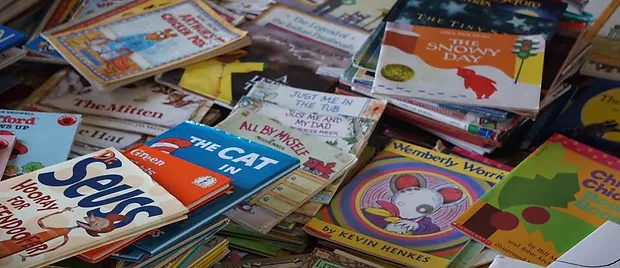 Chances are, there are places within proximity to you where you can donate books. This means you probably won't have to go very far to drop off your books.
List of places where to donate books near you.
1. The Salvation Army
The Salvation Army is one of the largest aid providers. This organization allows you to donate used goods, including hardcover and paperback books. Whatever you give will end up in the Salvation Army store or one of their shelters.
Any proceeds from their stores will go to Adult Rehabilitation Centers, in which people struggling with addiction can receive the assistance they need. The drop-off locations are available on the Salvation Army website.
2. Habitat for Humanity ReStores
Habitat for Humanity ReStores is another organization where you can donate books. All of the proceeds are used to build a sense of strength, stability, and safety in communities worldwide.
Their website provides information about all of their locations.
3. Goodwill
Goodwill is a nonprofit organization. It's a facilitator of job training, job placement services, and other beneficial programs for people struggling to find employment.
One of the things you can donate to Goodwill is used books, which will end up in their stores. Profit from the store will end up going to their job programs.
Drop off locations are on their website.
4. Libraries
Many libraries also accept used books still in decent condition. However, before showing up, it's a good idea to call. Libraries often only want specific kinds of books donated and do not have time to go through all of your books.
Therefore, you should ask what kinds of titles they're looking for or if they're having a book sale soon. For example, the majority of libraries have a "Friends of the Library Society."
These societies raise money through fundraisers, such as book sales with donated books, to fund the libraries.
5. Local Facebook Groups
Another great way to get rid of extra books is to see who needs them in any local Facebook groups. Many people wish to read books but might not have the financial flexibility to splurge on their favorite or new novels.
You can offer them your books – and maybe have a new friend to gush about certain plots or characters with!
6. Local Thrift Stores
Local thrift shops in your area would likely appreciate your lightly used books. However, you should check if the thrift shop functions as a nonprofit organization prior to attempting to turn in any books.
If they do accept them, the books will then be resold at a low price to increase access to affordable books.
7. Got Books? Fundraisers
Instead of providing books for existing book sales, you can create your own book sale with some help from Got Books?
Got Books? will give you crates with which you can receive books from people in your area. Once you collect a decent amount, Got Books will purchase the books. You will receive a check. You will then get to decide which charity you want to donate the money to.
8. Reading Tree
Reading Tree is a charity that gathers recycled books, donating them to libraries and schools with insufficient funding.
They have donation locations in various areas in the US; however, if there isn't one in your area, you can request they bring a crate near you on their site.
9. Retirement Homes
Many retirement homes appreciate book donations for elders to read in their free time.
You should call ahead to make sure the location is accepting books and what kinds of books they want.
Where to Ship Your Books
These resources might be more accessible for some, as you're able to ship the books to them. This means you won't have to find a location from the company in your area.
Instead, you can provide books to organizations that accept literature from all over the world or all over the United States.
10. Books for Soldiers
Books for Soldiers encourages you to create a package filled with any books you want to get rid of. Your books will then be sent to soldiers who are deployed overseas.
To send books, you must first register as a volunteer. This might seem like an unnecessary step; however, it's for security purposes.
When you sign up, you're able to look through the books soldiers are requesting. They might be specific titles or just certain genres. You're also able to send CDs or DVDs in your package.
11. Vietnam Veterans of America
Vietnam Veterans of America (VVA) is a non-profit organization oriented towards assisting veterans. They accept all kinds of books.
You can check their website for information on their pick-up service.
12. Books for Africa
Books for Africa provide large cases of books to thousands of African students of all ages. Africa has a significant shortage of books.
Books for Africa sends freight containers full of thousands of books to students in Africa. The charity looks for reference books and recent textbooks, both primary and secondary educational levels, but you can also send fiction and nonfiction books.
13. Books Through Bars
Books Through Bars is a program that receives donating books with the intention of giving them to inmates.
Their purpose in doing this is to provide prisoners aiming to receive higher education with a push to stay motivated. They will also adjust quicker once they're released.
The Books Through Bars website contains a list of the most coveted items. The main books are:
Dictionaries
Spanish books
Study guides
Textbooks
History books
Drug and alcohol recovery books
Spiritual books
Only submit paperback books, as the majority of prisons don't allow hardcovers.
14. Prison Book Program
Prison Book Program is another organization that sends free books to prisoners.
While doing this, they also manage a list of other organizations available in your area with the same goal.
15. Better World Books
Better World Books (BWB) collects books to sell online. Their profits will then serve as funding for the Associating of Library Trustees, Advocates, Friends, and Foundations. This is an organization known for providing support for public libraries worldwide.
On their site, they say, "Better World Books supports book drives and collects used books and textbooks through a network of over 2,300 college campuses and partnerships with over 3,000 libraries nationwide.
So far, the company has converted more than 250 million books into over $24 million in funding for literacy and education. In the process, we've also diverted more than 250 million books from landfills."
Places to Donate Books for Kids
Reading is an integral part of a child's life.
For starters, it broadens their vocabulary. For example, when they encounter words unfamiliar to them, they typically ask for the definition, eventually adding it to their vocab.
Also, the more practice a child has with reading, the quicker they get accustomed to it and improve. As they progress, they build a sense of independence; no longer relying on their parents reading to them.
And reading is essential, as they need to read to understand the world around them. Of course, they also need to understand anything they see in their daily life, such as labels, signs, etc.
Their development in terms of reading will also be beneficial to their future academic endeavors. Progressing with reading is one of the factors that will continue their growth and improve their grammar and writing skills.
Another thing is, a child's sense of imagination is vital. Fiction books can help expand the world in their head. For example, when a child (or anyone) reads, they are likely picturing the aspects of the book in their mind – the characters, the setting, the environment, etc.
Lastly and obviously, reading provides entertainment for kids. Productive pastimes like reading are a great way to stimulate a child's brain.
Therefore, just one donated book for a child will make all the difference in their lives, even if it seems somewhat trivial. Luckily, there are many available resources to give books to kids.
16. Kids Need to Read
The goal of Kids Need to Read is to build a reading culture for children. They hope to attain this by providing books to schools, libraries, and other youth programs in the US. Their emphasis is on children with prominent disadvantages.
They accept any kids books with little to no visible damage and no scribbling.
17. Reader to Reader
Reader to Reader, Inc. is a nonprofit organization aiming to broaden the literacy access that children in questionable circumstances have. For example, this is aimed at kids in dangerous communities, such as inner-city schools, poor rural neighborhoods, and Native American reservation.
Find a donation program near you.
18. Books for Cause
Books4Cause is a non-profit organization hosting book drives on campuses all throughout the US. Not only do they accept books, they also take video games, CDs, and DVDs if you live in Chicago.
Books4Cause will accept any book in decent condition, no matter the age. They will only recycle old books if they're books with outdated information.
If you live in Chicago, you can drop off books at their Skokie warehouse. They also do pick-ups at school campuses nationwide. If you'd like to schedule a pick-up at your school, you can contact them through their email or call them at 800-570-3698.
With your books, Books4Cause also sets up libraries with assistance from the African Library Project and Human Service Resources, Inc (HRSI). Money is sent to HSRI, who then send materials to Ghana.
College-level books will be donated through the African Universities program or sold to raise money to ship other books to Africa. Any CDs and DVDs are sold to fund the program and shipping.
The amount of books sold for operations and shipping is about 1/4 of the total. About 1/2 are sent to their partners. The final 1/4 is normally recycled books. Therefore, you should make sure only to send books in good condition so the members of the organization will not have to take excessive time filtering through books.
They claim they never toss books in the trash. Instead, they pulp and recycle the books. They have prevented thousands of books from ending up in landfills.
19. Literati
For Literati, you will put five books in a box with their specific label and send it to them. Then, literati will gift wrap the books you donate. Then, they will provide personalized bookplates for each child who will receive the books.
Literati works in conjunction with various shelters, foster care organizations, and neglected youth organizations. Their goal is to get books into the possession of kids who are hungry for something to read.
20. Books for Kids
The goal of the Books for Kids Foundation is to provide kids with the chance to develop their literacy skills at an average or advanced pace. Their focus is on kids in positions of minimal income or other unideal situations.
The work of Books for Kids is creating libraries, donating books, and creating literacy programs. These programs lay down the foundation needed for kids to develop skills normally and be successful in the long run.
The books they collect go to libraries and classrooms. The works they want go hand-in-hand with whatever fundamentals the children are learning at the time, being at the developmental pace the kids need. They also want to be a representation of the culture the kids are living in.
The books should also be exciting and award-winning to ensure only the best material is given to the kids. Books for Kids always makes sure each individual child is able to have 5+ books to take home and keep.
Initially, the goal of the foundation was to gather 1,000 books and deliver them to kids in unfortunate situations. However, it boomed into something pleasingly unexpected when 2,000 books were received in the first year. The next year, 9,000 were collected.
FAQ
How Can I Recycle Old Books?
To recycle your books for reuse or to serve as other uses, you have many options:
Donate them. You can donate your books through the resources mentioned above.
Make envelopes. You can make envelopes out of the pages of your books. This is especially useful for works with torn or missing pages, as these are not able to be donated. Using decorated or blank pages are the best option. It would be beneficial to use a template.
Make gift tags. For books in rough condition, you can use the pages for the creation of gift tags. All you have to do is cut out your tag and write your desired message on it with a marker.
Decorate. A surprising way to repurpose books is to decorate them or make them into works of art – mainly ones in bad condition. For example, you can make a headboard using books – or you can use adorable picture books for a kid's room.
Hidden storage. You can cut a hole in your book to hide things inside it secretly.
Plant. This might seem a little odd, but you can form a hole in a book and place a potted plant inside. This is a fantastic form of decoration for book lovers.
Bookmarks. This option is excellent for books in horrible shape or for using the covers of books when not accepted for recycling. You can cut the cover, drill a hole in the top and thread ribbon in the middle – making a nifty bookmark.
Can I Put Books In My Recycling Bin?
Before you think about recycling your books, if they're in good shape, consider donating them. If they're in pretty bad condition, however, you can and should recycle them, rather than throwing them out. Having books end up in landfills is not the best idea, especially with the current environmental issues we have already.
A lot of recyclers will accept books. After all, they're made up of paper. And if you can recycle paper, why wouldn't you be able to recycle books? The only obstacle that stands between you and recycling your book is the glue, cloth, or string that distinguishes a novel from a stack of papers by holding it together.
The books may also contain plastic, leather, cloth, etc. For this reason, you might need to remove the binding before you recycle it, as some recyclers will only take paperback books and not hardcover books.
To find out what you need to do, you should simply contact whatever company hauls your recyclables and have them give you instructions.
How Do I Get Rid Of Books?
If you notice books have become clutter in your home, you can donate them to various organizations and programs looking to provide books for those in need.
However, if your books are in horrible shape, you might just need to repurpose or recycle them.
Can I Recycle Hardcover Books?
Some recycling companies allow you to recycle hardcovers and others don't. Your best bet is to contact the company directly (or check their website).
Conclusion
You might throw out your books whenever you find organizing them is becoming tedious or you simply have too many. However, this is not the best option.
A better option is donating books to people in need. Millions of people are stuck in a financial situation not allowing them to purchase books.
And if, for whatever reason, your books are in too bad of shape to donate, you should not throw them out. Instead, you should recycle or repurpose them.
Seriously. Don't throw away your books. Be a good samartian and donate or recycle/repurpose them.