So you're wondering if it's possible to make passive income on Etsy?  Long story short, the answer is yes!
This blog post is all about how you can create passive income on ETSY. 
 Let me guess you heard about people that have an Etsy printables side hustle and want to learn more? If you're anything like me then you're constantly looking for ways to add passive income sources to your portfolio. I found out how to make passive income on Etsy, and would love to share my experience with you!
By the end of this post, you'll be ready to start your own passive income Etsy shop!
First, let's start with some context.
What Is Etsy?
Etsy is an online marketplace where people from all over the world come together to buy and sell unique goods. If you're a small business owner, Etsy is a great place for you to create a store and sell your products. You can find jewelry, clothing, art, vintage items, digital products and more with just a few clicks of your mouse. You can sell as many items as you want, to as many customers as you want. Etsy has a reputation for being a platform for small business owners and is very craft-oriented. This personalized touch means the website receives millions of visits every year.
What Is Passive Income?
Passive income is a term used to describe any time someone derives an income from the money they have invested in a business venture that creates more money without the need for additional work or investment on their part. One thing that should be mentioned, is that passive income is not a get-rich-quick scheme. Instead, it means investing time (or money) upfront to create something that has the potential to continuously produce money with minimal additional effort.
Can You Make Passive Income On Etsy?
Etsy is a phenomenal passive income opportunity, that can be used alongside another full-time job or other passive income options. You may wonder how you can passively monetize a platform that has such a large emphasis on crafts and physical products? The secret to making it entirely passive is to create digital or print-on-demand products. That means that you only need to develop the product once, but can sell it an unlimited number of times with minimal additional work. Okay, but what are examples of these products?
5 Products To Make Passive Income On Etsy 
1. PRINTABLES
A huge trend right now is selling printables on Etsy. These include things like:
journals
budget trackers
calendars
recipes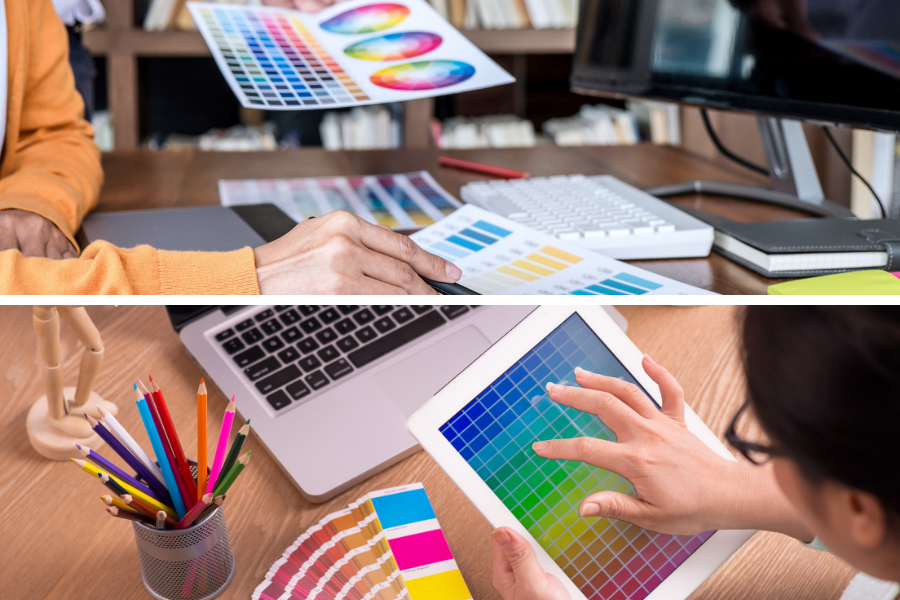 But don't you need to be a graphic designer to make printables?
Absolutely not! To get started on this Etsy printables side hustle you first need to develop some sort of template. Using a design software like Canva makes this process extremely easy with a drag and drop editor that is both easy to learn and use, no graphic design skills are necessary! The free version offers all the basics, however, if you're looking to really scale your Etsy shop then it may be beneficial to look into the pro version which has some other benefits like being able to resize your projects, and downloading images with a transparent background. There are definitely easy workarounds to these issues, but it'll add time to the creation process.
2. PRINT ON DEMAND PRODUCTS
Print on Demand is basically designing a product and outsourcing the production to a company that will only make the product if an order is placed. This is very common for products like clothing, accessories, wall art or even stickers! The most common Print on Demand providers with easy Etsy integration are Printify and Printful. One of the main differences I noticed between the two are:
Printify uses different printers from around the world. This means that your product quality may vary depending on the manufacturer.
Printful: uses one manufacturer, but this means if anything goes wrong then all your orders will be affected.
Both companies have different product offerings with slightly different price points so I'd recommend checking them both out and making a decision on what will best meet your needs.
3. E-BOOKS
Have a skill that you can teach? Then writing an e-book or developing a course is the way to go! Like all digital products when people on Etsy purchase your book, they'll be sent a digital download. So, this is a nice and easy way to share a skill you have in a relatively passive manner. However, in comparison to the other options here, writing an E-book will probably require one of the largest upfront times investments!
4. DIGITAL ART (STOCK PHOTOGRAPHY SELLING PHOTOS, DIGITAL IMAGES)
If you're artistic that you can sell digital artwork on the platform. This can range in anything from stock photos, to digital images to hand-drawn art that you scan and upload. Right now, there is also a huge demand for SVG images with commercial use licenses so that the buyers can use these images for their own creations.
5. WORDPRESS THEMES
If you are tech-savvy and knowledgeable about computer programming, then developing WordPress themes may be another option.
This blog was actually developed with the Etsy theme Guinevere. I purchased the theme, and it came with a link to a detailed installation guide. The seller does offer to install the theme for free, so that would turn this exchange into a less passive income stream for her. However, since the installation guide was so detailed, I haven't had to contact her once! So, if you're willing to put in the effort initially to make an installation guide, then this definitely has the potential to be extremely passive!
HOW TO CREATE A PRODUCT THAT WILL SELL ON ETSY?
As with any product offering, you're going to want to create a product that has a high demand but relatively low competition. How exactly do you find this diamond in the rough you may ask? Fortunately, a tool exists that gives you exactly this information.
Marmalead is a tool that is used for Etsy Search Engine Optimization. It provides vital information about the number of searches per month, engagement and competition regarding different keywords. It also provides an assessment of each of your listings and gives you a grade so you know where you can improve. When I used the Marmalead free trial I was shocked that many of my grades were C's and D's and even one F! Using the platform, I was able to increase all of my listings to at least a B rating. Only time will tell if that improves my sales but I'll keep you updated!
CAN YOU MAKE A FULL-TIME INCOME ON ETSY?
Absolutely! Some examples of people making a full-time income with some of the products listed above include:
Nancy Badillo. Here she is describing how she made $86 000 per year selling printables:
Brendon Timothy made over $70 000 in 2020 selling his digital art:
Keep in mind that these are only examples of very successful individuals and these results won't happen overnight.
Also, although it is possible to make a full-time income on Etsy, it would be risky to place all your eggs in one basket. It's important to realize that any platform at any point can change its policies, or your account could even be terminated! If you're relying solely on this income to support yourself that could be determinantal to your financial journey. Instead, I recommend diversifying your income streams, so if one abruptly stops you can still rely on the others.
How To Make Money On Etsy Without Making Anything?
So you know that you can create a variety of products outlined above, but what if you don't want to invest the time to create these products? Well then that will come with a tradeoff, instead of investing your time, you can invest money and outsource the production of these products. Fiverr is a great place to hire freelancers and there are gigs offered for all of the products outlined above.
What Are The Fees Associated With Etsy?
Naturally by giving you access to their customer base; Etsy is going to take a cut of your earnings. So, what can you expect to pay Etsy for each sale?
For each item listed, you will incur a listing fee that is 0.20$USD. This fee will be charged for every sale of the item, and also every 4-months to keep the item in your shop.
Next, there is a transaction fee, which is 5% of the (listed item price + shipping costs)
Finally, there are Etsy advertisement fees. You also have the option of paid advertising, where you determine your own ad budget daily. There are also offsite ads. These are ads that Etsy places on social networks and search engines, and if a click on one of the ads to your products results in a purchase within 30 days, then you will pay a 15% fee. You do have the option of opting out of this program if your Etsy shop has earned less than 10 000USD within the previous 365 days. If however, you have made more than 10 000USD of sales, then you cannot opt out, and the fee is 12% instead of 15%.
So, to summarize the fees you pay per sale are:
Listing fee: 0.20 USD
Transaction fee 5% of (listing price + shipping cost)
Advertisement fee: 12-15% (unless you make less than 10 000 USD and opt out).
Where Else Can I Sell These Products?
Fortunately, there is nothing that binds you to sell your products solely with Etsy. So once you have already created your digital products you can sell them on other marketplaces as well. A few of these marketplaces include Canva, Creative Market, and Fiverr.
Finally, this post was all about how to make a passive income on etsy? Hopefully, you can put some of this information to use and start growing this passive income stream today.